Women in marketing: Overcoming imposter syndrome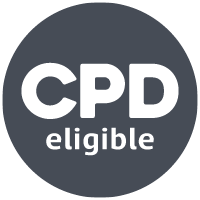 Imposter syndrome is something a lot of people can relate to. But how do we overcome this? Marketing leader Visha Kudhail, managing director Katie Bullon and CIM course director David Hare share their insights into how marketers at all levels can combat these feelings and flourish in their careers. 
Do you struggle to feel confident at work despite being eminently qualified for your job? Perhaps you often find yourself plagued by self-doubt. If so, you may be experiencing imposter syndrome, a phenomenon that affects many. 
First used by psychologists Suzanne Imes and Pauline Rose Clance in the 1970s, imposter syndrome refers to feeling anxious and insecure, despite others perceiving you as high-performing. These individuals often doubt themselves, even in areas where they typically excel, which can lead to symptoms of anxiety and depression. 
Many prominent names, including Facebook's former chief operating officer Sheryl Sandberg, Huffington Post co-founder Arianna Huffington, and even legendary musician David Bowie have all admitted to having self-doubts in light of their own achievements. These admissions often describe feelings of having ended up in successful positions, not because of their accomplishments but simply because of oversight or luck. 
CIM course director, David Hare provides some insight. "If this sounds like you, then you might also have a fear of 'being found out', because you subconsciously believe 'I don't deserve to be here'. Or, to avoid even having that feeling in the first place, you might hold yourself back from going for a promotion, with all sorts of self-defeating self-talk, such as 'Who am I to go for such a senior role?'. 
When this concept was initially introduced, it was found to be particularly prevalent and intense among a select sample of high-achieving women. Although society now recognises it as something experienced by a much wider group of people, women are still especially susceptible. 
A recent survey commissioned by confectionary giant Galaxy found that 53% of British women relate to experiencing imposter syndrome, with work being the most common place for these feelings to present themselves (72%). In the US, research from KPMG found that 75% of female executives across industries have experienced imposter syndrome in their careers. With that in mind, we've spoken to some female leaders in marketing about their personal experiences with it and their advice for others in similar situations. 
Credit: Galaxy Chocolate UK
Marketing needs more support and allyship 
Imposter syndrome can be a self-fulfilling prophecy in the workplace. When a manager knows about an employee's struggles, the result can be to hold that individual back by highlighting areas for improvement or withholding promotions.  
Instead of offering support and encouraging growth, managers can be responsible for turning fears or struggles into a reality, eventually leading to an employee withdrawing or even quitting. To help someone be the best version of themselves, there needs to be more awareness and support in place, something that marketing leader and former director of business marketing, EMEA, at Pinterest Visha Kudhail, knows all too well. 
"It's safe to say I've experienced doubt in my abilities many times. I remember many, many years ago, I was told by a manager that she thought I shouldn't be in marketing. I remember sitting in the room with her and feeling devastated when she said that. I had experience behind me, and I was CIM qualified - in fact, far more qualified in my field than she was. But I also sat there wondering if maybe she was right. Maybe I wasn't good enough," explains Kudhail.  
"After a confidence knock, I pulled myself together and reminded myself of the former. I was qualified, I was experienced, and I knew my capabilities more than anyone else. So I just need to show it. And that is what I did, and it's led me to lead teams, run campaigns, win awards and support other marketers - men and women - that have been through self-doubt to do the same. I do believe that imposter syndrome comes about due to a lack of support and allyship from managers and your surrounding peers and partners in the workplace."  
If your manager isn't supportive enough, try looking elsewhere for mentorship at work. Having someone you can turn to for advice and feedback can be a powerful tool for professional growth. Talk to someone who you share similarities with, who understands how you feel and can give you the confidence needed to move forward.  
CIM course director for the Confidence, Influence and Impact training course, David Hare states, "The most confident and inspirational leaders are the ones who see your full potential – often before you do – and are prepared to take a chance on you, without feeling threatened by the idea that you might one day replace them!".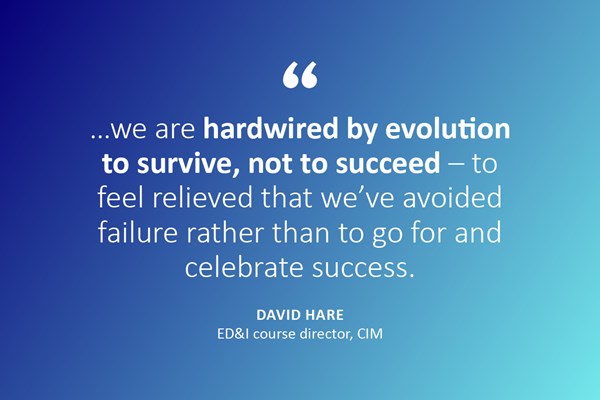 Workplace diversity is fundamental for success 
It's widely recognised that diversity in the workplace improves business success, and there has been plenty of research to demonstrate this. While the awareness around this topic is improving, more needs to be done, as Kudhail suggests. 
"If you walk into a room where people don't look like you, sound like you or behave like you, then very quickly you feel like you shouldn't be there, and that affects how you show up and perform. It is fundamental that CMOs need to hire diverse teams so that they create an environment that is inclusive to everyone." 
According to the latest Women in the Workplace report from McKinsey, in partnership with LeanIn.Org, women are leaving their companies in 'unprecedented numbers' and switching jobs at the highest rate ever seen, which could have profound implications for companies that are already struggling to hold onto the few female leaders they do have.  
Despite some improvement in ED&I over the last few years, women – especially women of colour – are still dramatically underrepresented in the workplace. This is especially true in senior leadership, where only one in four C-suite leaders are female, and only one in 20 is a woman of colour.  
As Kudhail highlights, when team members don't see other people like them succeeding, then it's hard for those individuals to convince themselves that they have earned their victories. Likewise, when they don't see others in powerful positions, it's hard to feel they can aim for that success themselves.   
Women can feel they are taken less seriously than men, and that's a societal problem rather than with women themselves. As the report shows, they experience bias not only because of their gender but also because of their race, sexual orientation, disability, or other aspects of their identity. This leads to more microaggressions against them, such as having their judgement questioned, being mistaken for someone more junior, and facing more barriers to advancement. Therefore, it shouldn't come as a surprise when they question their abilities.  
Formal recognition of achievements
Industry awards are a powerful and meaningful way for brands and marketers to celebrate the very best in creativity, recognise hard-working teams and individuals, and drive more outstanding business and competition. This is something that has helped Katie Bullon, managing director of activ Marketing Group, overcome self-doubt during her career.  
"I've worked hard for a long time since I was in my very early 20s - marketing is not just a career but a passion, so it's never been a chore, but it's taken dedication, nonetheless. Taking things to the next level for me by becoming an MD and leading a larger team and wider group of franchisees.  
"This has been a time where I think, wow, this is the point in my career that I have been working towards for so long. When I got here, and it's going really well, the transition point was the time that I really felt like an imposter in my own role," says Bullon. 
"I won two particular awards last year - the Best Leader in Marketing at the Global Women in Marketing awards, and I was also listed in The Telegraph's list of Top Female Entrepreneurs Watch. This was the point that I felt like I was obviously blagging it to gain this recognition - but I wasn't.  
"As it sunk in and I got over the imposter syndrome, I came to realise that hard work and dedication to my career over many years was eventually all slotting into place and paying off. I am good at my job, and I'm so proud that the awards tell that story."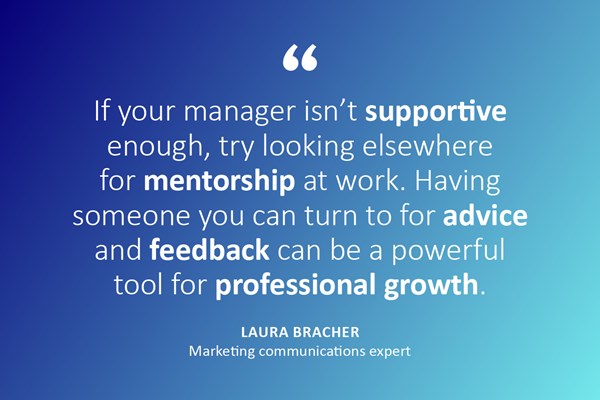 Tips for beating imposter syndrome
it's essential to recognise that while imposter syndrome is indeed a consequence of self-doubt, certain historical, cultural and societal contexts are foundational in how it impacts women. There is still a great deal of work required to put the emphasis on fixing the workplace rather than women themselves.  
For now, though, it can be reassuring to know that it is not unusual to feel this way, no matter your career stage, and there are ways to utilise the negative thoughts to motivate and push forward. 
"With the technology landscape evolving all the time and digital being a must-have in every marketer's remit, jobs in marketing are changing all the time or are being created. Which means new skills are required, mindsets need to shift, and new leadership styles will constantly be put to the test," states Kudhail. 
"As exciting as that is, it does mean that no matter what level you are or how senior you are, you will experience imposter syndrome. If you do, then see it as a natural part of your growth in your career and personally. That's really what it is. Growth.  
"My top tip is when you are experiencing self-doubt, remember why they hired you! That's the reason why you are there. Keep your focus and stay on your game, evolve with feedback and ignore the naysayers," she adds. 
Bullon shares, "Self-belief is really important as you progress through your career. Without it, who else will believe in you? You need to push yourself into roles and responsibilities that you don't quite feel up to, but this is how you grow. Everyone is on a journey, and you are not alone. Work hard to prove you can do the things that push you out of your comfort zone and keep learning. Lead with solutions rather than problems with clients, and build strong relationships."   
"As you grow and things start to slot into place, and you build your reputation and trust, you will stop having to 'fake it'. That's when imposter syndrome could kick in. It takes time to learn the trade and live out experiences which shape you as an experienced marketer. Keep pushing boundaries, and working hard, and things will pay off, and you will reach your career goals. If imposter syndrome kicks in, know this is the point you are actually in a transition to a greater part of your career. Enjoy it and be proud of it!" 
Award-winning exec coach, author and CIM course director David Hare comments: "Imposter syndrome is more prevalent than people like to admit and is a perfectly natural reaction, often when you've just achieved a 'big hairy audacious goal'. This is because we are hardwired by evolution to survive, not to succeed – to feel relieved that we've avoided failure rather than to go for and celebrate success.  
I've coached CEOs and senior directors who've confided in me that they felt way out of their depth when they were first promoted and had to overcome serious self-doubt. It's strange, because half the company are probably putting them on a pedestal and thinking they're some sort of super-human, yet even the most successful captains of industry have their flaws, failures and off-days.  
Boosting self-confidence is the key to feeling that you deserve to be where you are, in fact, in the long term, you will always achieve only what you feel worthy of and no more. It all comes down to feeling deep inside that you deserve to succeed and fortunately there are lots of mindset management techniques that can help you do just that!" 
Learn the skills and tools you need to flourish at work with our Confidence, Influence and Impact training course.
CIM members can also access our recent member-exclusive webinar: How to beat imposter syndrome and boost your self-belief on demand.