A day in the life: Studying marketer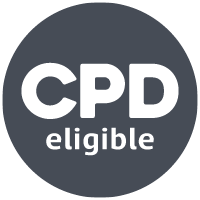 Ever considered studying a marketing qualification? Find out what it takes to balance studying with working full-time in this article from Claire, The Chartered Institute of Marketing (CIM)'s events manager in the marketing team, as she adjusts to a new digital working environment whilst completing her Level 4 Certificate in Professional Digital Marketing.
My career in events marketing started in the charity sector, where I was working in a support role delivering training and on-boarding procedures to new starters. You might not immediately think it, but training and events are pretty similar – there are the same fears and nervousness around meeting and networking with new people in an unfamiliar environment, and I always enjoyed being able to put delegates at ease and interact with them.
When I was unfortunately made redundant in 2011, it was an opportunity for me to reconsider my career path. When a colleague pointed out the parallels between my previous role and the skills required for managing events, I decided to give it a go and applied to work at CIM as an events co-ordinator. Fast forward nine years and I now lead a team of three who deliver CIM's central and regional events strategy!
Last year I decided to invest in my own learning by undertaking a CIM Level 4 Certificate in Professional Digital Marketing. I got an itch to learn something new and the thought of gaining a better overall view of the wider marketing function excited me, because that's so important for events. I opted for the digital elective module (Digital Marketing Techniques) because it struck me as a great opportunity to learn something entirely new that I rarely explored in my day-to-day role. That means a typical day for me looks very different from before I started studying, as you will discover in this article…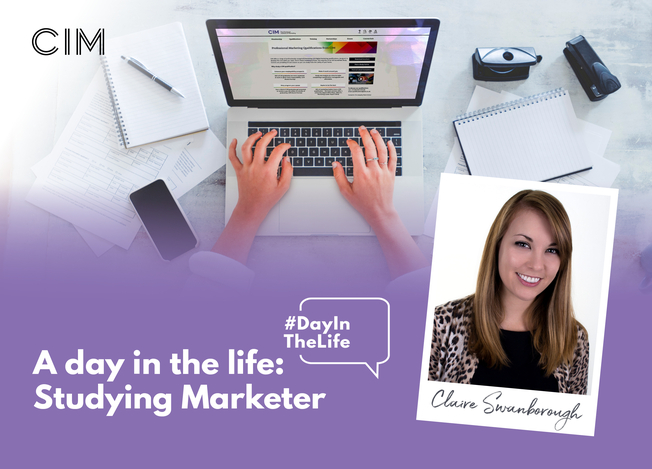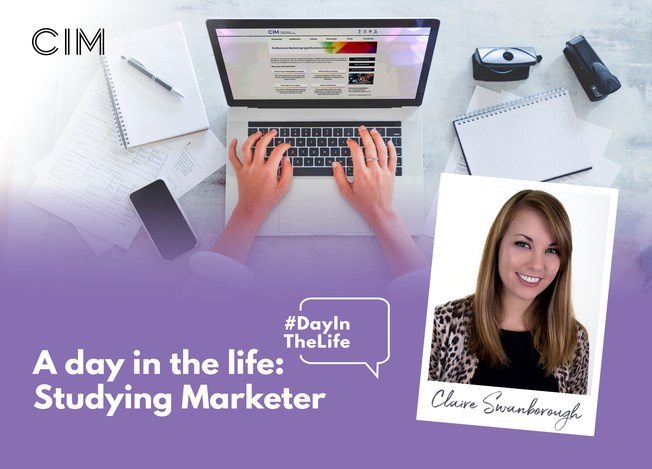 09:00 – Team meeting
I start the day with a team meeting. Regular catch ups are important as each team member has a different role and responsibility in relation to each event or campaign. One specialises in identifying and approaching sponsors and judges, where appropriate, for some of our larger events and maintaining relationships with them. My other team member leads on the administration of events, such as processing bookings and delegate management.
Beyond the day itself, each event that we run is actually the culmination of months of work. Every person in the marketing department will have a hand in putting together and promoting an event – not just as the day approaches, but long after it, too. This is one of the many reasons I wanted to invest in my own learning, to understand and deploy this knowledge of marketing's broad role with greater confidence and skill.
10:00 – Campaign planning
Our biggest event campaign at present is the launch of The Pitch 2021, a nationwide competition for university students where groups must respond to an industry challenge set by a leading business. This year's sponsor is Samsung, representing our biggest sponsor to date and an exciting partnership for CIM.
Launching a campaign such as this involves close communication between all areas of the marketing department, including brand, digital and creative teams all coming together. Since beginning my qualification last year, I've found myself able to bring more knowledge and insight to these planning sessions. Now I understand more about the role each marketing function plays, I can make reasonable, actionable suggestions for activity where previously I may have stayed quiet. This makes for a much smoother process and opens further discussion and collaboration between teams.
11:30 – Strategy planning for the Marketing Excellence Awards
My job has naturally been affected by the coronavirus pandemic. Historically, CIM's events are held in central locations across the UK, and crucially have until now always been held face-to-face. The idea of getting between 300 and 1000 people in one space seems a long way off, so we've had to flip our events strategy on its head. Many of our flagship events have been cancelled or postponed, but we've also found ways to innovate and deliver events in the new virtual environment. It can be challenging to have to be so agile, with guidance changing regularly, particularly when managing suppliers who are also operating in times of uncertainty.
However, applying the knowledge from my qualification has helped me to develop an adaptable mindset. My digital elective, Digital Marketing Techniques, has also made a big difference when considering alternative methods of event delivery; greater knowledge of the core marketing functions has really helped me to focus on what's most important when choosing and implementing a new approach.
13:00 – An afternoon's study leave
This afternoon I'm taking some time away from work to focus on study. Study leave can be a helpful way to dedicate extra hours to your recommended reading, as well as conducting additional research on specific areas of the module. It also allows you to really focus on working towards your assignment by completing your suggested weekly tasks. Don't be afraid to ask your employer about taking time out – it could well benefit your ability to keep on track with your study, which is of benefit to you both.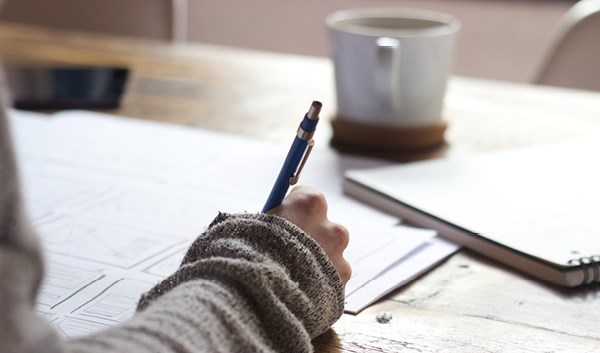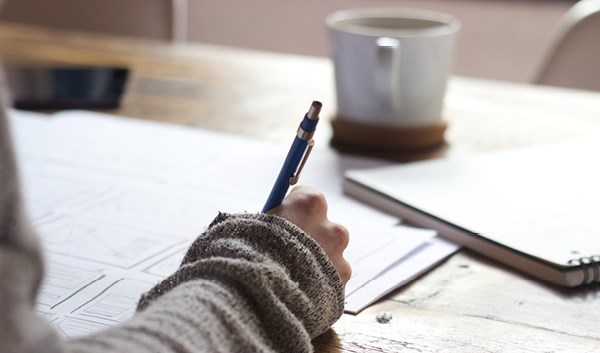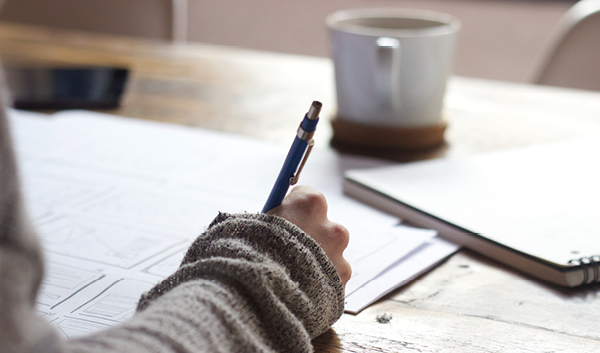 14:00 – Catch up on some reading
Managing your time is one of the most important things to get right when you're undertaking a CIM qualification. I'm studying with CIM Academy (this is my Accredited Study Centre) and they provide a study schedule, which has been helped me to organise when I should be engaging with core materials or additional articles to support my reading from EBSCO, a database of online journals and reports. It can be easy to fixate on specific areas and realise you've spent significant time on one small aspect of the syllabus, so having a schedule to keep your progress on track is really useful.
I also try to mix up the types of content I'm consuming. I love reading traditional textbooks, so I find the core material engaging, but I must admit the webinars and articles from Exchange.cim.co.uk help to put my knowledge into context.
When I'm reading, my number one recommendation is colour-coordinating highlighters! I like to split my highlighted materials into two categories: one is dedicated to quotes I plan on using in my assignment, and the other is for key information that I'd like to return to later in the module. I'd also recommend keeping a separate document of key references for you to utilise in your assignment.
15:00 – Work on assignment
This afternoon I'm working on my assignment ahead of the first draft deadline in a few weeks' time. The assignment consists of a 4,750-word essay which will discuss digital techniques, improving digital marketing performance and explore the challenges and opportunities within the digital environment.
Another reason why the study schedule is so helpful is because it helps you make time to work on your assignment. It goes without saying, but don't leave your assignment to the end of the module, because you'll miss crucial time to work on refining it.
CIM recommends you spend between 10 and 15 hours a week on your qualification, and how you spend this time will vary based on where you are in your module. This may sound like a lot, but it goes quick! For example, you could spend a full Sunday afternoon working on your assignment after a few evenings of reading or virtual classrooms to prepare. More on those later!
16:30 – Chat with fellow students
My qualification is being delivered via blended learning, which consists of a virtual workshop and two virtual classrooms per module. These are great opportunities to engage and interact with your fellow students as well as your tutor, as they're often experiencing the same challenges as you or have found great resources to recommend.
CIM Academy encourages students to interact in the Discussion Forum, which is great for getting advice from your classmates and occasionally giving it too. We're all in the same boat, after all!  
17:00 – Take a break!
Taking regular breaks and giving yourself time to absorb the information you're working through is so important. It's especially vital when your home becomes your office during periods of remote working, so get out of the same four walls and give yourself time to manage the transition between work and study.
19:00 – Virtual classroom
Tonight, I have my second virtual classroom of my current module, Digital Marketing Techniques. These sessions are a great opportunity to interact directly with your tutor and ask questions during the hour-long session. Whilst the tutor is presenting on a specific aspect of the module, there's a dedicated Chat function to allow students to ask questions as they arise, which can help to overcome any challenges or concerns you may be having.
The classrooms are very informative and structured around the assignments, to give you as much guidance as you need about your submission. If you need extra help on any of this, CIM Academy also offer additional webinars on how to structure your time or tackle the assignment, which are brilliant resources to keep your learning on track.
Is a marketing qualification right for you?
Committing to a CIM qualification means learning how is exactly that – a commitment. But, through effective time management, keeping an open mind and the support of others, it can revolutionise your marketing role.
Anyone working in events will know that it is such a broad sector. If you've assisted in the organisation or running of an event, you will also already know what a crucial role marketing plays in making that possible. Building on that knowledge through a qualification can help you to make the next step into a senior events or marketing role with confidence, or help you to apply your knowledge to a new industry if your circumstances change.
Ultimately, whilst it is always a positive thing to upskill yourself, in times of uncertainty it also demonstrates your adaptability if you're having to pivot in your role or forge a new career path. I'll be completing my CIM Level 4 Certificate in Professional Digital Marketing later this year, and I'm excited to continue working closely with my colleagues to apply what I've learned and ultimately build my confidence and skills as a marketer.


Follow in Claire's footsteps and take your first step towards building your marketing knowledge by viewing our full range of qualifications here.