How sleep-fatigued consumers are shaking up the wellbeing market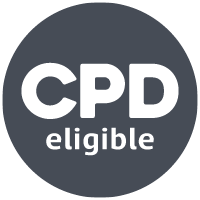 As stress and insomnia levels peak, how are brands catering to this new demand to truly awaken the sleep economy?
Catching 40 winks seems to be easier said than done these days. With mounting evidence that the pandemic is disrupting people's sleep patterns, thanks to screen fatigue, sedentariness, plus rising stress and anxiety levels, a good night's sleep is now far less straightforward than simply laying your head on your pillow and closing your eyes.
Just last month the Journal of Sleep Research published a study finding that "the pandemic is having a diverse impact on people's sleep, with clinically meaningful sleep difficulties having undergone a sharp increase". While the study was based on Canadian consumers, here in the UK, research from King's College London revealed that, for two thirds of Britons, their sleep quality has deteriorated since the first lockdown.
The "sleep economy" is of course not new, with all manner of sleep-aiding products and services gradually proliferating both physical and virtual retail spaces over the past five years, such that sleep-tech is a bona fide industry and the global sleeping aids market is tipped to be worth £120 billion by 2030. 
But the industry is no doubt enjoying a pandemic-induced push. Specifically in the beauty sector, brands such as Cult Beauty, Asos and Goop reported a sharp rise in sleep aids and wellness products over the last lockdown. Pinterest has even nominated "sleep care" as one of its top five beauty trends for 2021 as prioritising wellness rises up the New Year's resolution list.
"Sleep has become this sort of bastion of health and wellness. Naturally, beauty brands have stepped in, realising how sleep is a huge part of our physical beauty, and seeing plenty of opportunity to jump on board and tackle a growing consumer concern," summarises Lisa Payne, senior beauty editor at Stylus, the trends intelligence agency which recently produced its Covid-19: The Beauty Sleep Opportunity report.
And tackle it they are, with an endlessly growing list of sleep-enhancing products, from infused pillows and pyjamas, to overnight face masks and oils, to specially developed gummies and mouth sprays - the more exotic the ingredients, the better, Payne suggests.
Agility and experimentation key to innovation
It's a space owned by niche, independent brands, she adds, who are more agile and open to experimentation than their mainstream counterparts, who tend to adopt such innovation further down the track.
"They're able to access different ingredients and concepts to really tap into what consumers are looking for, in a way that the established players don't seem to be able to learn from," Payne observes.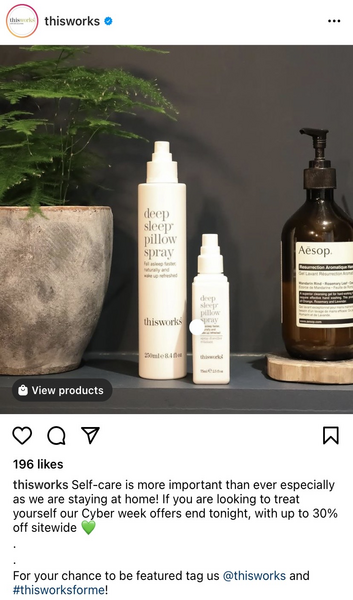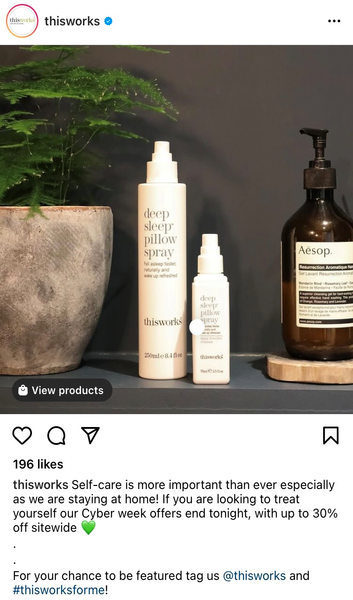 She highlights This Works as a brand that has established itself as "the sleep expert" in the beauty sector, bolstering its sleep-based toiletries range with online content such as blogs and Q&As with sleep experts.
"Naturally, this online connection is going to continue, not just because we're in another lockdown in the UK, but because we've learned across last year how to take our own issues and desires into our own hands, and recreate things at home," Payne comments.
"It's going to be imperative for brands to maintain that sense of being useful to consumers - giving them the sorts of tools and educational things that potentially they would have had to pay for. That's the kind of brand value consumers are really going to be looking for - the ability to elevate the product from the noise."
Tackling sleep concerns with mindfulness content
In the content space, mindfulness app Headspace has also been quick to respond to changing consumer concerns, launching new sleep-specific content.
"We've seen a rise in people using our sleep content since the pandemic struck last March. We saw a 33% increase in Sleep Music in the first 30 days compared with the previous 30 days of usage. Nearly 20% of all active Headspace members use our sleep content - Sleepcasts, sleep sounds, Wind Downs and packs or sessions around sleep," reveals Sarah Romotsky, Headspaces's director of healthcare partnerships.
"Looking ahead to 2021, sleep will continue to be a focus as we expand our offering. We have already premiered the Headspace Guide to Meditation on Netflix, which will lead to a subsequent series including the Headspace Guide to Sleep."
Innovation in the sector might be plentiful, she adds, reflected by the rise in popularity of white noise machines and sleep tracking apps and tools, but results are what will make an impact on consumers.
"The only way these new innovations will be successful is if they actually work in helping people get to sleep and improving the quality of rest," she states.
With the pandemic placing greater emphasis on the importance of sleep as a simple yet effective way of looking after our health, it's becoming part of a more holistic view of managing wellness, linked with nutrition and exercise. It's a long-term consumer mindset shift marketers need to consider, predicts Stylus' Payne.
Turn customer insight into a successful marketing strategy with our dedicated virtual training course. In this two-day learning experience, you'll discover how to translate customer needs into a proposition that works for your business.