Why filmmaking is a must-have skill in the digital world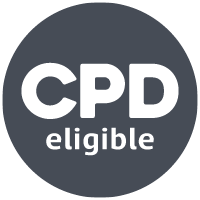 As with the best films, a great brand tells a fantastic story. In fact, marketing can learn a lot from the movie industry, which is why CIM has teamed up with the British Film Institute (BFI) to provide marketers with a thorough understanding of filmmaking.
When you consider the average person will spend 100 minutes a day watching videos online this year, you can see why integrating video into marketing strategies has never been more important.
In a digital world, the marketing team is increasingly responsible for creating high-quality video content, often on a tight budget. Brands know they must use the moving image effectively to communicate their story and purpose.  
It is a skill marketers need to learn or they risk being left behind.
Why marketers need filmmaking skills
In such a competitive job market, a basic understanding of filmmaking is an important differentiator to help marketers stand out. It's also a helpful skill towards helping brands get value for money and the best results when using video, itself an increasingly popular format for boosting engagement.
"Film is fast becoming the mode of communication that most of us are consuming and responding to, so marketers need to understand how to work and operate in that world," says Mark Prescott, head of business development and consulting at the BFI. "There are some key techniques anyone can learn and important software to become familiar with. The courses BFI is running with CIM explain everything a marketer needs to know - then it is all about practice."
From your initial idea to distribution, you can learn what you need to enhance your production skills. Including; Filmmaking and Video Production, Video Editing Essentials, Filmmaking Storytelling Fundamentals, and Video Distribution and Copyright.
The training will equip marketers with the skills they need to shoot and edit high-quality video content. They will also become comfortable managing the production process and be familiar with key copyright practices.
"People are very surprised by what they are able to achieve," says Prescott. "By the end of day one, students will have produced something that is actually quite good. By the end of day two, they will have something they can actually distribute. This is a skill you get better at the more you do it."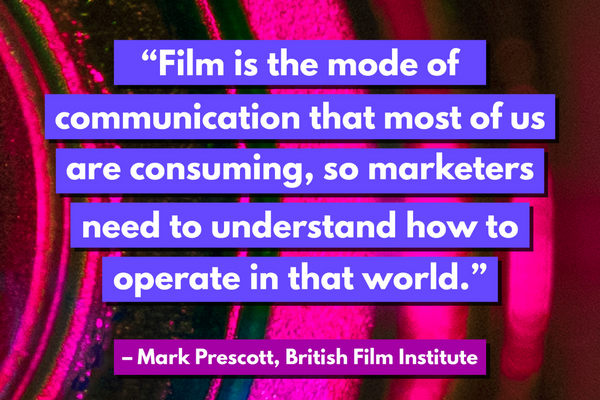 How to make great video content
To make great videos, marketers need to be clear about what exactly the story is that they want their film to tell. What's the brand message?
They also need to understand the technical language, have a good visual eye, be able to brief others effectively and make sure the content they deliver is compelling and right for different platforms, from YouTube to TikTok.
"Marketers will commission video content internally and externally, so having an understanding of the process will help them get more from their in-house team or an agency. The bottom line is, if you really understand the craft of moving image, you'll become a much better commissioner of content," Prescott shares.
Filmmakers need to know how to create a storyboard, why they must think carefully about every shot, the importance of getting the sound quality right, how to direct the actors and, crucially, the importance of editing to make the most of the content they have.
"With 10 minutes' worth of content, you can make five or six different pieces. You do not need expensive equipment. You can learn to use your mobile phone and buy a simple tripod and light," says Prescott.
When it comes to post-production, it is not just about understanding the technicalities. Marketers also need to judge whether the brand's tone of voice is coming across and if the cut should be changed. Also, should music or graphics be added? During the COVID-19 pandemic lots of brands have used video to connect with their target audience and, in such difficult times, they have had to get their tone spot on.
Ultimately, marketers need to understand the importance of planning effectively to ensure a minimal amount of content must be re-shot, thus keeping a video shoot on time and on budget.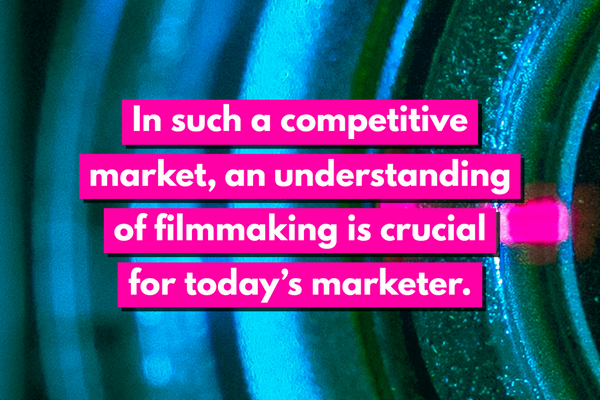 What's involved in creating compelling video content
It is crucial that marketers understand what makes the video content they produce compelling.
A video needs to be memorable so that people want to watch it again or are prompted to share the content across social media.
However, what is memorable for one platform might not work so well on another.
For instance, long-form videos are ideal for YouTube and for building mass awareness but they can't solve every problem. Marketers also need to understand what makes great content for short-form videos, such as a six-second Snapchat clip or TikTok, or a minute-long Instagram or Twitter campaign. Each social media platform will have an optimal video format.
"Marketers need to think carefully about the choice of edits for each platform," says Prescott. "You can cut between scenes and shots to create the pace you want. You must take charge of the choices you make with film."
There is also the option of including User-Generated Content (UGC) in videos to help tell the brand story in a creative and meaningful way. Many brands have followed this route during the Covid-19 pandemic. Using UCG can also be an effective way of keeping to a budget.
Ultimately marketers need to think like a film director and consider how to engage their audience.
Why you should start with storytelling
Pete Markey is one of the industry's best-known marketers and is currently CMO at Boots. He agrees that if marketers want to progress in the industry today, it is essential they have some filmmaking skills.
"Storytelling in its broadest sense is vital for any brand to communicate its purpose. Great creative and filmmaking are part of this," he says. "My advice to young marketers is to learn the art of great storytelling and to always focus on what you want the viewer to take away from a piece of video creative."
He adds that - like the best film - before the cameras roll you need a good brief. Marketers must start with very clear objectives in mind, because the better the brief, the better the work.
"It's key to know who the film is for and what you want the audience to think/feel/do," says Markey. "Any content must be in line with a brand's guidelines and promise. It should never be about content for content's sake."
He believes that digital has created many fantastic channels and opportunities for brands to use film to get their message out to consumers.
"In an age when you can reach more and more of your chosen customers via personalised media, having a strong creative regardless of budget, remains key," says Markey. "We have an internal creative studio at Boots called B-Hive (I also had an internal creative studio when I was CMO at TSB), which is deliberately focussed on delivering high quality but lower cost creative at scale – including great video content."
CMOs, marketing directors and managers such as Pete Markey will be looking for filmmaking skills on marketers' CVs in the future. They know that in a digital world, and with growing demand from consumers for compelling video, the marketing team must be able to make the most of moving image content to serve the brand well and deliver results across different platforms.


Learn how to shoot, edit and distribute compelling film and video content with these brand-new courses from CIM and the BFI. Book your place today to avoid disappointment.