An unconventional route: Is working at a marketing agency the right career for you?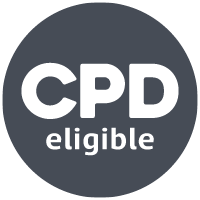 Whether you're starting out in marketing or changing careers, there can be different opportunities presented to you and some might appeal more than others. We talk to Jennie Marwick-Evans FCIM, CEO of Manor Marketing about her route into marketing, what you can expect from a marketing agency and how they differ from working client-side. 
Most people that set up an agency begin their career in-house, work their way up in a larger agency, or get a grounding as an industry journalist. I didn't follow the traditional route to founding my own agency, which shows it is very possible to take an unconventional path towards agency life and still make a success of it.
Thinking of starting a career in marketing? You can learn the ins and outs of how a marketing role fits into a business with our Marketing Principles training course. 
Carving out a path 
I had no formal training in marketing or PR. I wasn't aware organisations such as CIM existed. Instead, I worked my way up through the ranks at various technology manufacturers - in those days they actually made physical equipment, rather than building software as they tend to do today. I started out as a secretary in the sales department typing for 11 different sales people. I then moved on to another company and became a PA before moving to internal marketing and sales. Sales is where I really honed my craft and got my grounding in technology. I'm a sales girl that went wrong!
This understanding of sales and the first-hand knowledge of what clients need in order to sell effectively to their customers has been the mould that continues to shape my agency, Manor Marketing, and continues to drive it today. All the marketing we do leans primarily towards supporting our clients' commercial and sales activities. We're focused on helping them communicate the importance of a piece of equipment and obtaining the necessary purchase order.
Whereas most people lump Sales and Marketing into one homogenous department, this isn't always the best approach. Though admittedly two sides of the same coin, they are very different beasts with each having their own specific requirements and outcomes. How you market something is not how you are going to sell it. In essence, marketing is one-to-many communication, whereas the success of sales relies on a personal one-to-one conversation with the customer that shows an understanding of their particular challenges. The old adage that people buy from people is very true.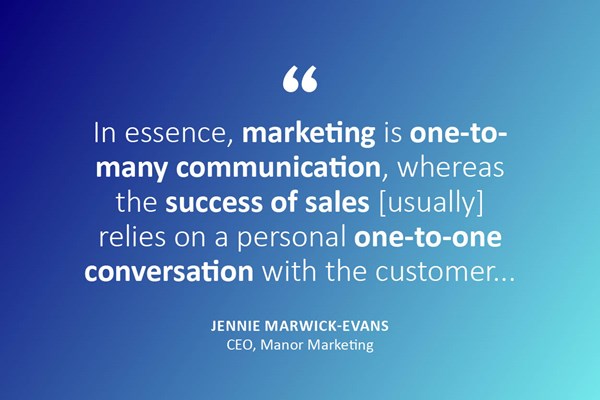 Putting the client first 
As an individual marketeer or an agency, it makes an enormous difference if you can work collaboratively with the sales team and understand the hurdles they have to overcome. As an agency, our first aim is to gain a deep insight into the nature of our clients' company and how they want to serve their customers. This approach allows the sales effort to be supported more effectively - at the end of the day what the client really cares about is making more sales.
Putting the client's mission at the heart of everything we do here gives us a different angle to the majority of other agencies. We become an integral part of our clients' businesses. This means we are extremely well placed to get involved in conversations with Sales as well as with partners and customers, continuously building on the insight we need to help our clients gain their best outcomes.
What makes an agency different? 
Depth of insight is perhaps the biggest difference between in-house roles and agencies. An in-house marketing person will be laser focused on one company, one set of products, one segment of the market and one set of deadlines; it's very rare for the marketing team to look beyond their specific business area.
At an agency you have the opportunity to work with a wide range of clients, gaining a broader viewpoint over the industry as a whole. We understand the implication of industry trends, and we can see where, and how, different parts of the industry join up.
As an agency, we're able to add real value to clients by drawing on this deep knowledge bank to offer strategic support. Our connections across a broader spectrum of the industry also facilitate conversations between companies and lead to collaborative projects.
Agencies also bring together people from different backgrounds, which adds to the database of knowledge they can offer. We're a small agency, and I'm passionate about bringing graduates through the ranks, giving them the experience and grounding they need to create a successful career in marketing. They bring fresh ideas and energy to the mix.
Equally, we have older, more experienced heads with decades of experience in different segments of the industry, as well as those from other technology sectors. It's a great blend that we can draw on to create the best support system for each client.
How has CIM played a part in your journey? 
Training is on-the-job these days, no doubt about it. But external training is also valuable and not to be overlooked. I encourage training and in fact, for a couple of hours every Friday morning, individuals can pick a course of their choosing. This can be with a package that we already use (who offer their own on-line training) or part of an ongoing qualification.
Utilising the facilities on offer by such companies as CIM not only gives people the opportunity to learn and progress with industry-recognised qualifications, but to also explore other options that might not be so obvious. E-learning works for some. But for me, in-person is still the best and allows for a wider discussion, and ultimately, education.
I am honoured to be a Fellow of the Chartered Institute of Marketing. It's a recognised and prestigious accolade and one that my peers respect. As an organisation, the CIM is a knowledge base like no other and offers learning and insight into the skills needed and required to succeed in a very competitive and ever-changing medium. It's a resource that I encourage my team to utilise and they're offered not only training courses to attend, but also to aim for additional qualifications and to be CIM members in their own right.
Is working in an agency the right thing for you?
Agency life is by no means plain sailing all the way! It's challenging, brilliant, exhilarating and high pressure all at the same time. I love it and wouldn't be anywhere else. You're working across multiple clients, each with individual cultures and needs, juggling multiple deadlines, and continuously asking how you can deliver better value for your clients, regardless of the size of an account. Even when clients are very similar there's no cookie cutter approach, and discipline plus attention to detail are an absolute must!
Agency-side can be a real shock to the system if you make the move from an in-house role, but it's extremely rewarding.
Are you thinking of beginning or changing to a career in marketing? Deeply rewarding and challenging, you can learn more about how marketing contributes to a business in our Marketing Fundamentals online course.