Think like a journalist: Six ways to create compelling copy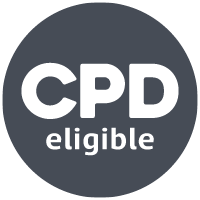 Walking the tightrope between broadcasting your brand's message, while attracting and keeping your desired customers' attention, can feel like a balancing act. Lucy Handley, editor-in-chief of CIM's Catalyst magazine and CIM course director of Copywriting Masterclass, Alan Barker, share their top tips for creating compelling copy. 
Marketers sometimes talk about having a relationship or a conversation with customers, but so often content from brands still broadcasts a message, and sometimes uses jargon that businesses understand but consumers don't.
At the same time, content has never been more important to help people find inspiration, seek answers to questions and information about products or brands along the path to buying something. I'm a journalist who used to work in advertising and I now write about marketing, so here are my tips for applying an editorial mindset to your brand communications.
CIM's Copywriting Masterclass reveals the secrets of the copywriter's craft, for content and beyond. Give your skills an invigorating workout.
1. Think about why your message is relevant right now
Sure, you've got something to sell and a marketing budget to spend, but consumers don't care about those things. Where editors' and marketers' roles do cross over is when there's a real focus on the people consuming the product, and what they want and need.
Top of the list of an editor's concerns is who their readers are and what they are interested in. If I come up with an idea for something I want to write or pitch, I'll think about why my idea is relevant to readers right now and why it matters to them, or whether it can help them in some way. Brands can do this too.
Alan Barker, course director for CIM's The Copywriting Masterclass, agrees. "When you're writing content," he says, "you need to find an argument that links your reader's interests to your brand. Find something topical that increases your reader's awareness of an issue – and then show how your brand can address that issue."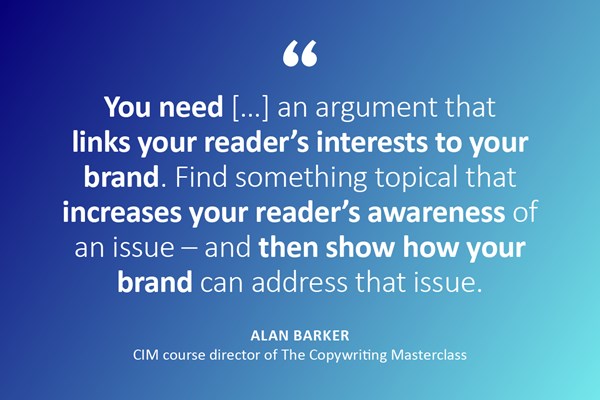 2. Avoid jargon and acronyms
Remember that the people reading or watching your content are unlikely to know the jargon you use internally. So, if you send out a press release saying you are making redundancies to "right-size the business," that phrase is unlikely to be used by a journalist in a headline. When it comes to ads, even small things like a bank using "in branch" in an ad instead of "in a branch" might irritate consumers and will make the advertiser seem out of touch. 
This might apply more to business-to-business marketing than consumer communications, but never assume people know what your acronyms stand for. An acronym can have many different interpretations, so spell them out. 
3. Branded content should be informative, not salesy 
Sometimes I'll work on a piece of written branded content and the brief will include a number of sales messages. I usually query this, because people don't like to be sold to, especially in an editorial-style article. "Readers usually don't encounter content as part of the buying process," Alan Barker told me. "They're probably looking for an answer to a different kind of question. Can I find out more about this issue? How do I choose between different products?"
The trick is to be informative and include a call to action to a landing page where you can continue to provide useful content - then you can take people further down the funnel towards buying something.
4. Don't be afraid to write how you speak
Believe it or not, journalists are trained to communicate in the simplest possible terms, so rather than feel you have to use flowery language, try to write as if you're explaining something to a friend. This applies whether you're putting together text people will read or a script to be recorded and will help your audience understand your message quickly.
Another tip is to think about what people type into search engines when they're looking for information or inspiration – the phrases that come to mind are likely to be conversational.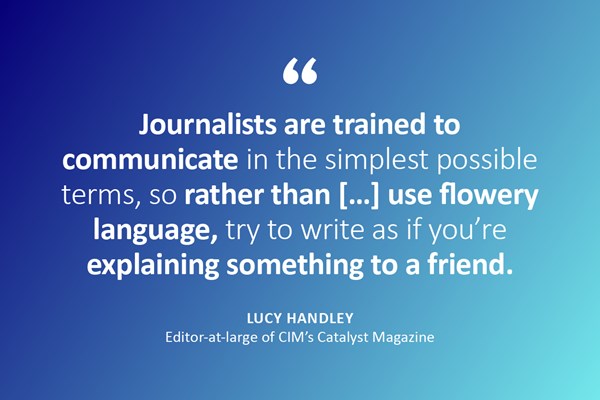 5. Confidently choose one message
If someone threw three tennis balls at you at once, how many do you think you'd be able to catch? With my skills, it would be zero or one, and when I worked in advertising, that's the question the creative director would ask when a client wanted to shoehorn several messages into one execution. That was a long time ago, but I still see content that tries to communicate multiple points in one headline and ends up saying nothing.
"The best editorial headlines communicate the main message of an article," suggests Alan Barker, "and perhaps tease readers a little bit so they want to read more – and I think it can be the same with ads."
6. Include real-life examples
Details are what people remember, not vague claims or platitudes. So, if you're talking about how your product helps a business work more efficiently, include examples - and if your brand has a unique selling point (which it hopefully does), explain it. And avoid saying your project or service is the 'best' unless you can prove it objectively.
And finally
The end of an ad or piece of content can be one of the trickiest bits to get right. You could include a surprising quote, a fun call to action or a visual reminder of what you want people to take away. But whatever you do, finish with a flourish!  
CIM's Copywriting Masterclass reveals the secrets of the copywriter's craft, for content and beyond. Give your skills an invigorating workout.